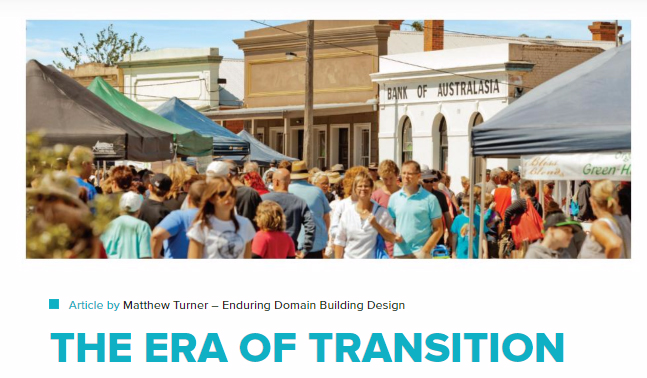 17 Oct

The Era of Transition

And here's my latest column in the Spring issue of Secrets Magazine.

Photo courtesy Secrets Magazine

Pressure for continued economic growth, escalating energy costs, food security and quality, and degradation of our natural environment are just some of the catalysts which have unsurprisingly spurred our local communities into action to help improve our lives at a local level.

It is undeniable that over the last ten years our region has seen the formation of numerous local community initiatives aimed at improving economic and environmental resilience. From the community owned Hepburn Wind renewable energy facility, to weekly Farmers Markets, to the Transition Town movement which now numbers over fifty groups in Australia, there is plenty going on for all those proactive people out there looking for an opportunity to help create their ideal lifestyle.

The Transition Town ethos is based on what the future might look like with a move towards self-sufficiency at the local level, in food, water and energy. How that might be achieved is up to the brain-storming of the individual groups and seeing what works best for their own specific circumstances. Gradual change can come from as simple an act as education. Monthly meetings of the Transition Creswick group will host a guest speaker to talk on a range of topics from designing more energy efficient houses to how to implement permaculture principles in our own backyard. A side effect of hosting such formal activities is that it brings about social interaction between different kinds of people who might not otherwise feel they have anything in common, yet potentially have so much to learn from each other.

When Federal Government policy fails to make meaningful impact on environmental issues, it's wonderful to see volunteer groups leading the way in pledging to achieve future zero net energy status for their township, whereby they effectively use no more energy than what it can locally produce. Totally Renewable Yackandandah and Renewable Newstead are two such examples setting a benchmark for a sustainable model that could be implemented nation-wide. Apart from the obvious benefits of reducing carbon emissions from non-renewable energy sources, towns insulate themselves against rising power prices and power shortages during peak consumption periods.

With the ever increasing attractiveness of the so-called 'tree change' for young couples, families or retirees looking to escape the rat race and live a life more true to their ideals in semi-rural regions and townships, this notion of community certainly exists, and it's there waiting for you to come and be involved and to help shape it.